Anthony Chan
McMaster Children's Hospital, Canada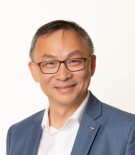 Dr. Chan is a Professor of Pediatrics at McMaster University and Chair of Pediatric Thrombosis and Hemostasis at McMaster Children's Hospital/Hamilton Health Sciences Foundation. Dr. Chan is inducted into the Canadian Academy of Health Science in 2022 recognizing his contribution to child health through research and clinical services and was recently awarded the Ann Harrington Award (2023) from Hemophilia Ontario for his contribution to patient care, leadership, and education in hemophila.
Dr. Chan's research laboratory is based at the Thrombosis and Atherosclerosis Research Institute (TaARI) in the David Braley Research Institute. His focus is on the relationship between the hemostatic system and diseases in children. He also designs and conducts clinical studies in the areas of thrombosis, stroke and hemophilia.
Dr. Chan also shares his expertise in thrombosis by providing around-the-clock consultation through the 1800NOCLOTS service. This service provides consultation for pediatric health care professionals around the world who are seeking assistance with the treatment of children with thrombotic problems.